Pros
The site allows you to sell skins and items in literally 30 seconds
No verification required
Accepts most items from CS:GO, Rust, Dota 2 & TF2
Helpful support via live chat
Cons
Pricing is not always attractive
What is SkinCashier?
SkinCashier is a website that allows you to sell skins and items from CS:GO, Dota 2, Rust and TF2 for real money. The operation of the site is very simple, because you send the selected items to the bot of the site, and then you receive the chosen payment method money. Of course, before the transaction you know how much you will get for the selected skins. Don't forget to use our promo code to get 3% more for your Steam's skins!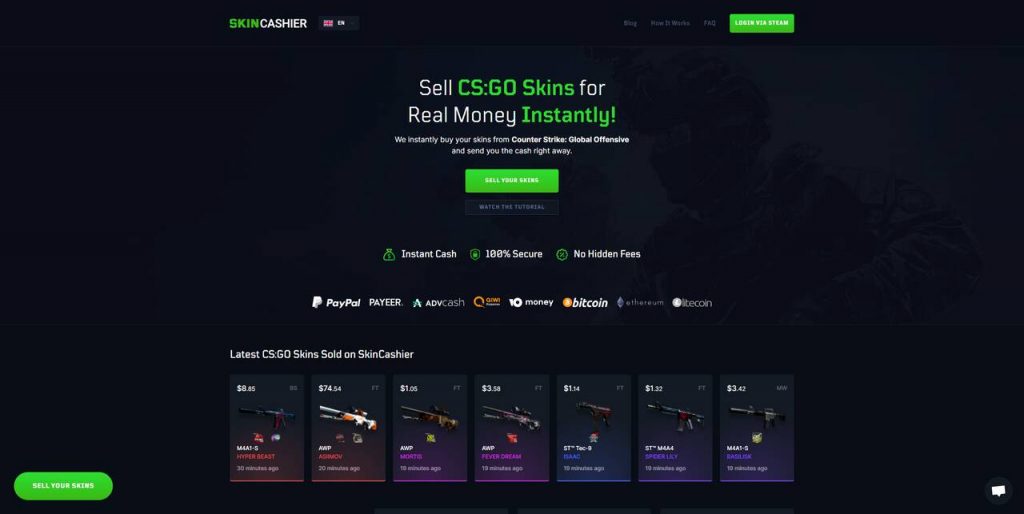 Is SkinCashier Legit?
Yes, SkinCashier is a legit site that has over 1500 positive reviews on TrustPilot. We haven't found any information anywhere on the internet that this site is a scam so you can definitely trust it. Trustworthy confirms the length of time SkinCashier has been online, as the site can be used for two years now! You can see the review on TrustPilot yourself, just click on this link.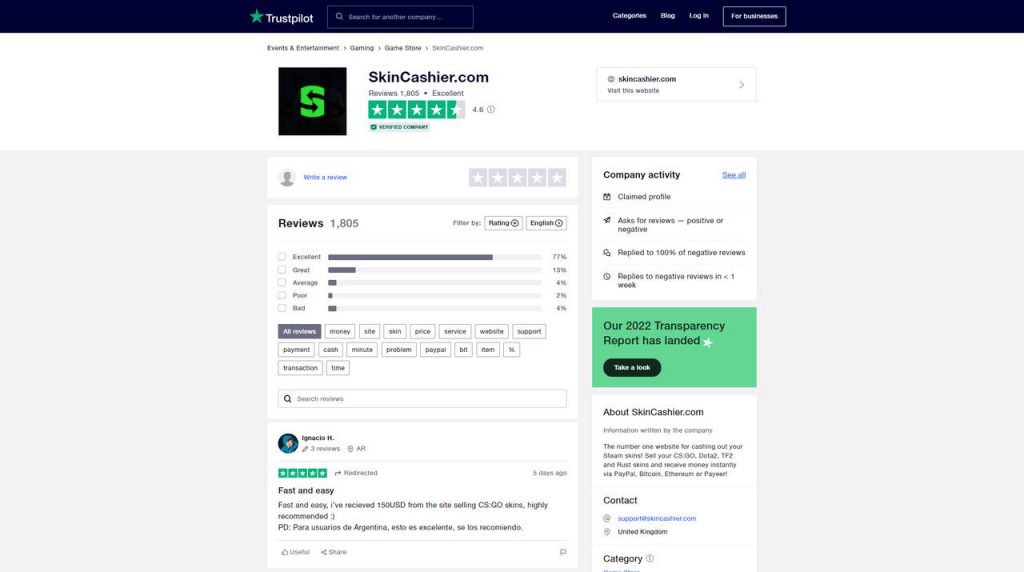 How to Sell Skins on SkinCashier?
Log in with Steam
Select the skins you want to sell
Select a method and enter your payment details
Accept the trade offer and receive your money
Summary
| Website: | SkinCashier |
| --- | --- |
| 🕹️ Supported Games: | CS:GO, Rust, Dota 2, Team Fortress 2 |
| 💰 Bonus: | 3% Bonus On All Transactions |
| ✅ Safe & Trustworthy: | 100% ✅ |
| 💱 Type: | Cash-out Site |
Frequently Asked Questions
❓ Can I Buy Skins on SkinCashier?
No, SkinCashier only allows you to sell your own skins and exchange those items for money.
Last modified: May 12, 2022 @ 6:23 pm